The Top 8 Google Trends Alternatives in 2023
Google Trends is great but it often isn't enough. Here are 8 free alternatives to Google Trends that we use on a daily basis. When compiling this list of alternatives to Google Trends, we considered everything from data accuracy and coverage, to usability and price. We also took into account user reviews and have included the tools voted as the best overall Google Trends alternatives, including Google Ngram, Semrush, Pinterest Trends, SimilarWeb, and more.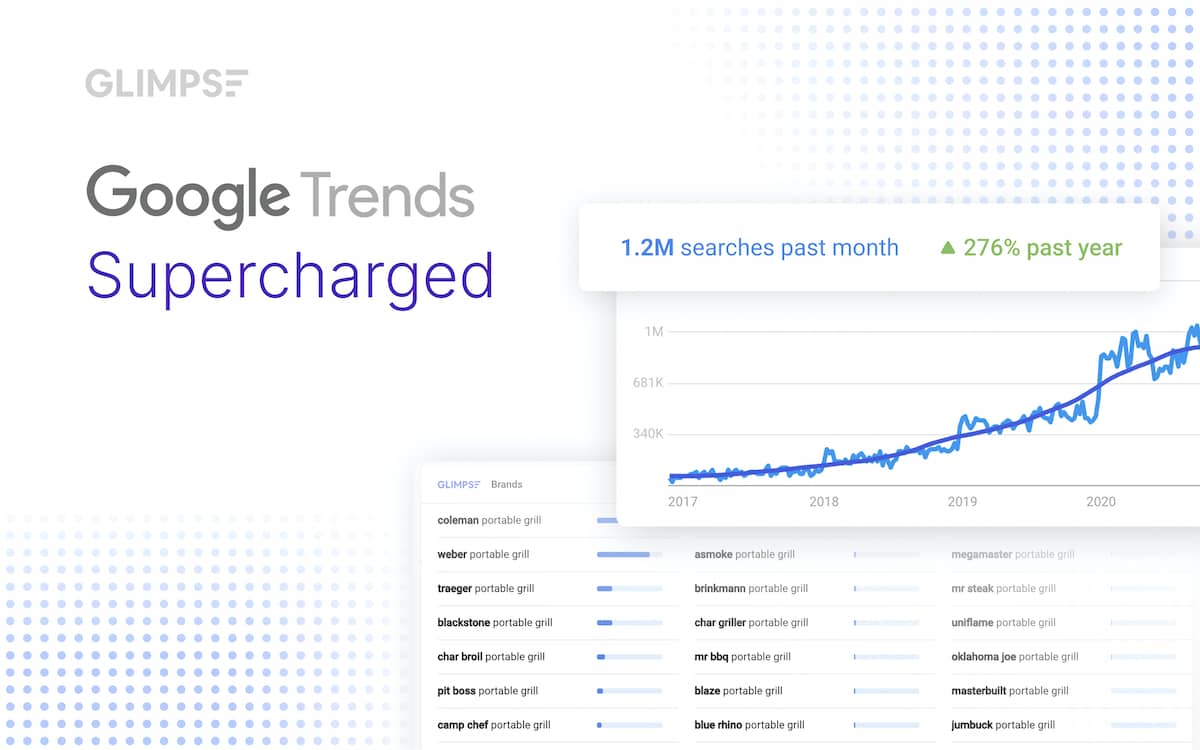 We built a Chrome extension that adds the critical missing features into Google Trends. It's used by everyone from leading publications like the New York Times and the Washington Post to marketers at top brands like HubSpot and IKEA to trend analysts at top strategy consultants like McKinsey. Here's why:
See absolute search volume, not just 0-100.
See trend trajectories: know if a topic is really trending or if it's just a fad.
Set Google Trends alerts: get alerted when topics on your watchlist grow (or decline) in popularity.
Discover the top trending topics.
See the complete set of long tail keywords for any topic as you do keyword research, and sort by volume, growth, CPC, and competition.
Export Google Trends to Google Sheets
Check the seasonality of any topic.
The extension aims to solve all the top complaints about Google Trends so if you're looking for the best Google Trends alternative, check this out first.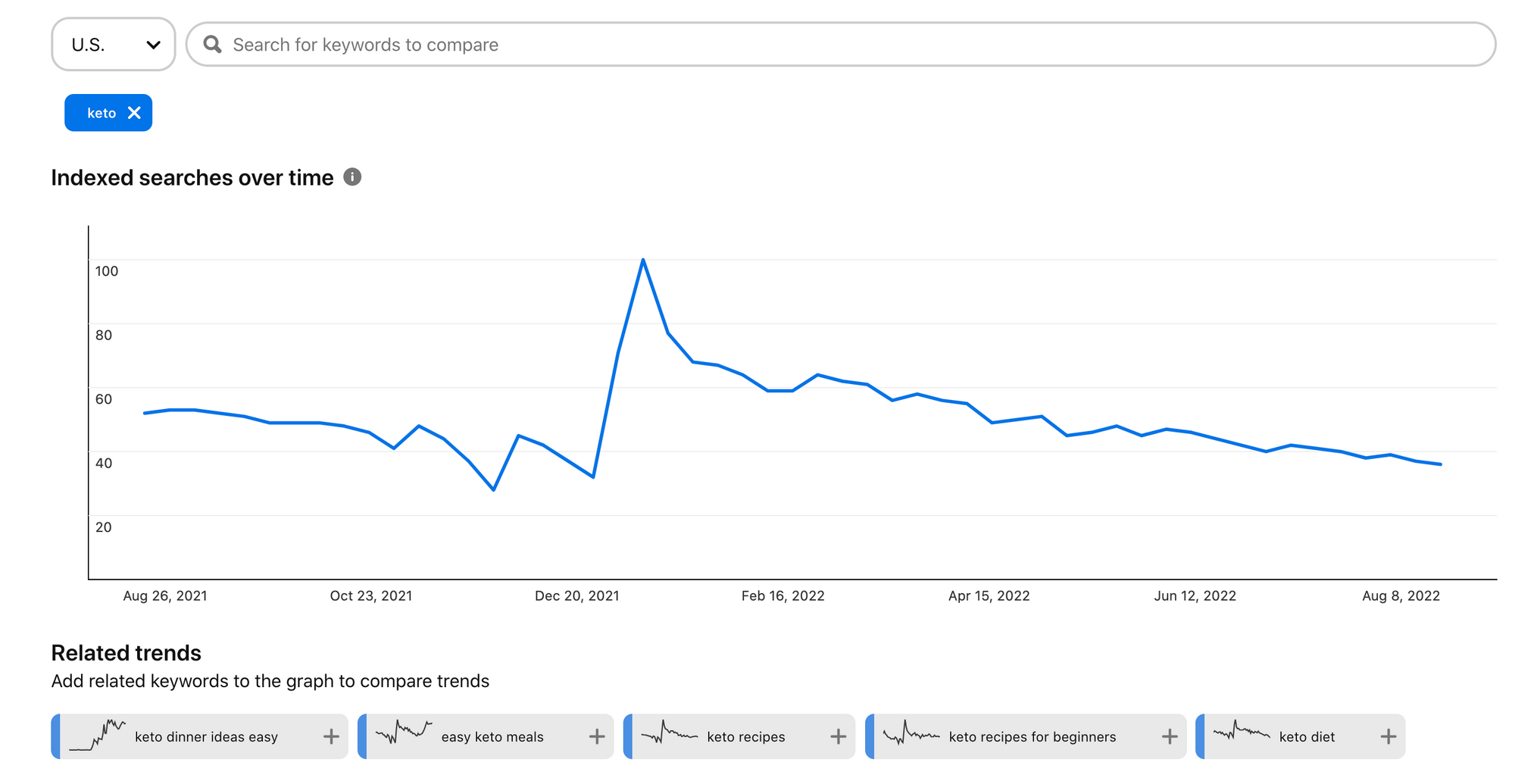 What is Pinterest Trends?
Pinterest Trends shows you searches over time for any keyword on Pinterest.
Pros
Visibility into another channel, in the same style as Google Trends. Some topics trend much more on certain channels. Trends also sometimes start taking off on one channel before they surge on others.
Cons
It's limited to the past 12 months, which makes it hard to decipher between seasonal movements and real surges in interest. Interest in the keto diet, for example, spikes every January as consumers look to set health-focused New Year's resolutions – but if you can only see the past 12 months, you wouldn't know this natural behavior that happens every year.
The set of keywords you can look up are pretty limited, unlike Google Trends which lets you look up any keyword with sufficient volume. It also restricts visibility to only the US, UK, and Canada.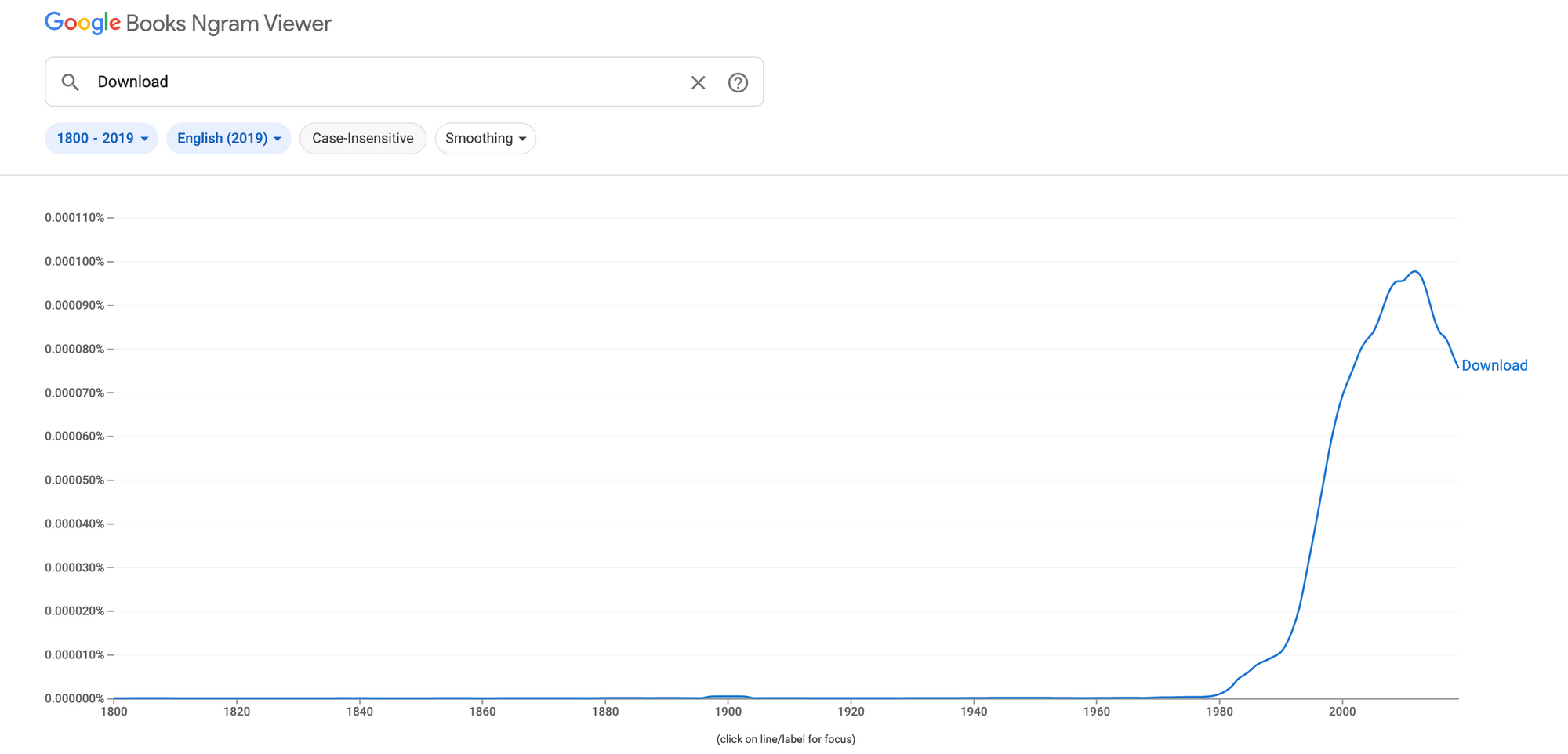 What is Google Ngram?
Google Ngram shows you the popularity of any keyword in books over the past 200+ years. It's like Google Trends but instead of looking at searches, it looks at books. More info on Google Ngram here.
Pros
12x more historical data than Google Trends, stretching all the way back to 1800. Google Ngram is the only trends tool that shows historical data from before the internet.
Cons
Not real time; Multi-month to year delay. Because Google Ngram looks at text in books, and books are not published instantly, there's often a significant delay between something happening in the real world, someone writing a book about it, and it being published.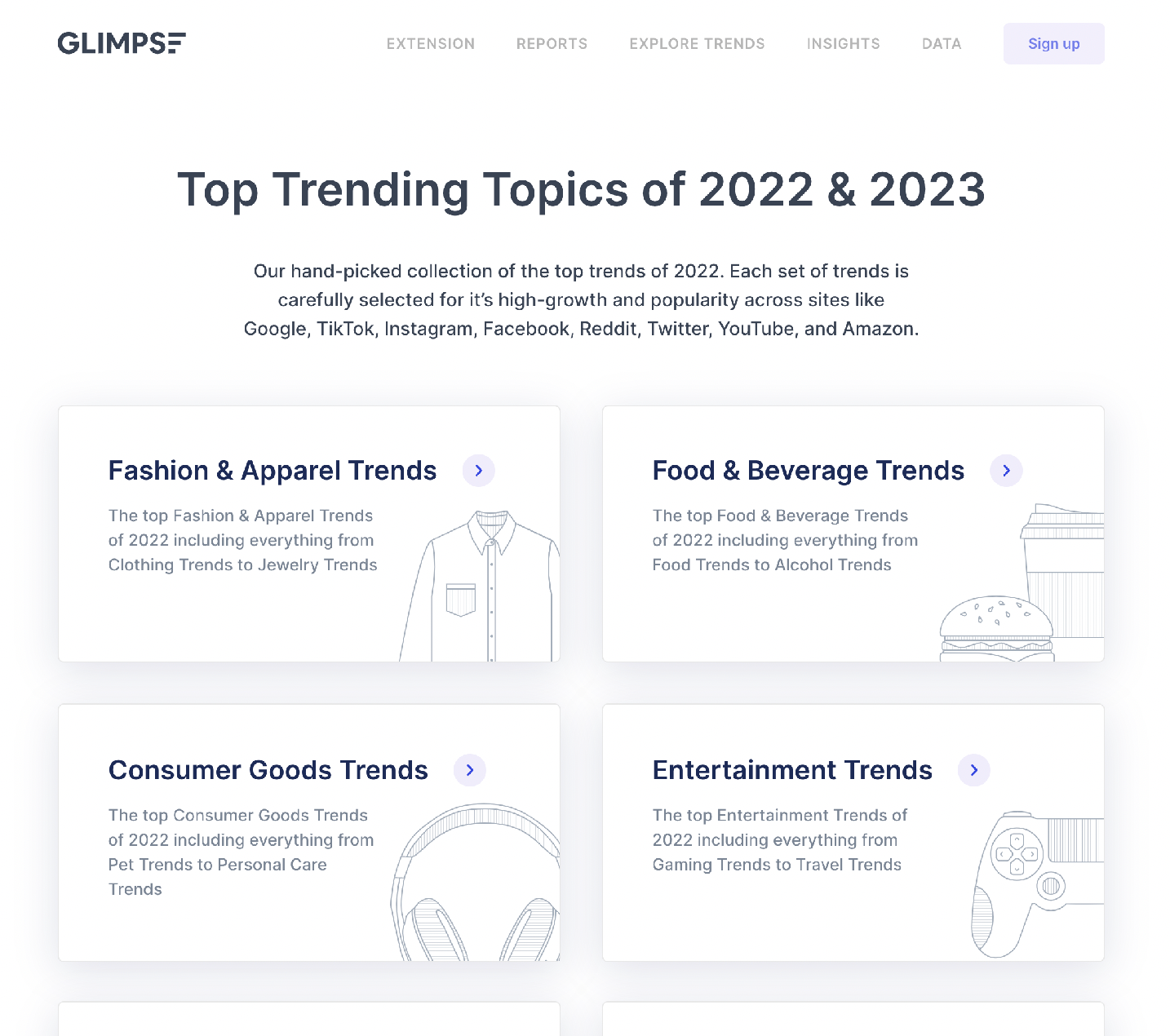 What is Glimpse - Top Trending Topics?
Google Trends is great for looking up trends you already know about, but not so great for finding new trends you don't know about. We at Glimpse maintain a database of thousands of the top trends from top business trends and entertainment trends to the latest food and beverage trends.
Pros
Thousands of trends in all the top categories.
Cons
Not every trend is in the database. To see every single trend in any given niche, use the Discover section of Google Trends Supercharged. There, you can search for trends in any category no matter how niche or broad, whether you're trying to find trends related to as broad a topic as food, or as niche as a topic as ketchup.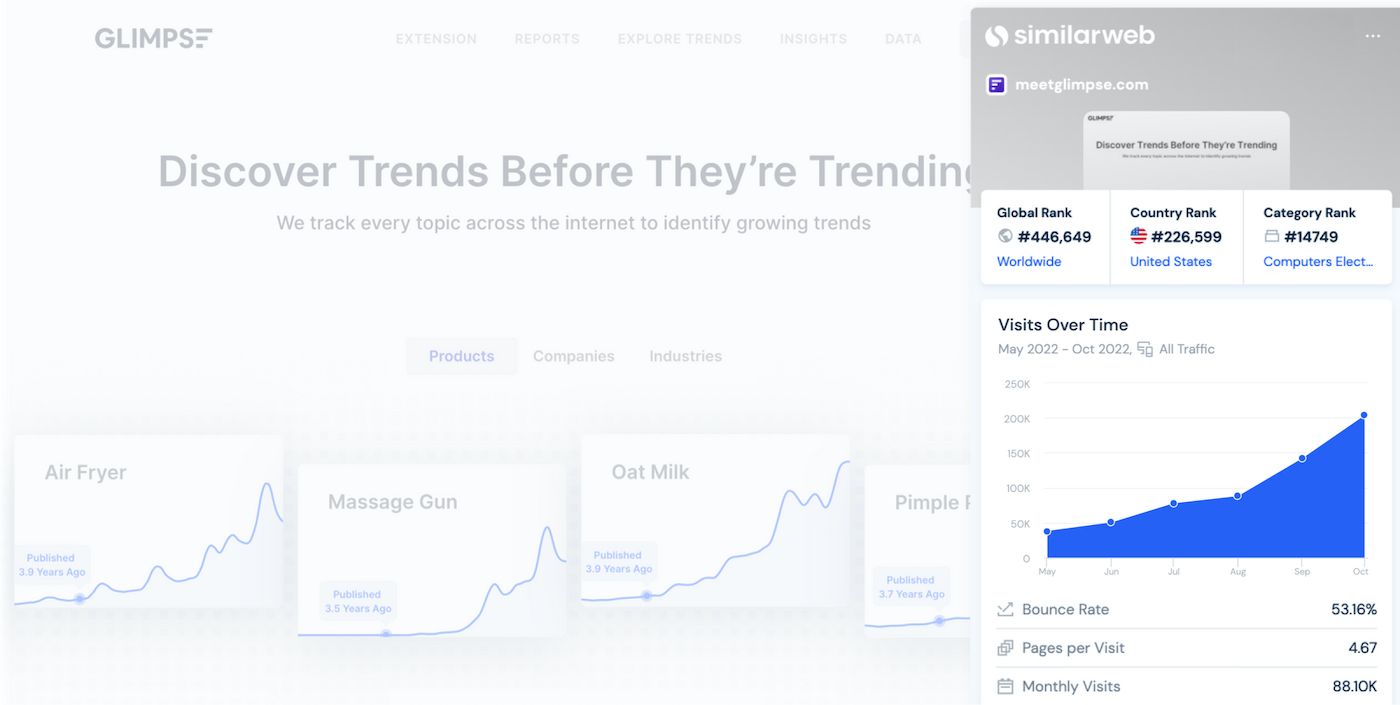 What is SimilarWeb?
SimilarWeb's Chrome extension shows you the website traffic of any site over time.
Pros
Shows traffic data for every site that has more than ~10,000 monthly visits.
In addition to site traffic over time, SimilarWeb also breaks down the traffic by channel: email vs ads, vs search vs social, and also by geography, age, and gender.
Cons
Accuracy: Their traffic estimation algorithms rely on sampling – tracking millions of users and extrapolating. As a result, SimilarWeb is accurate directionally, but often not very accurate in terms of absolute volume numbers. It's commonly 2-5x off in either direction. For our site, it's off by about 4x. Note that the extent of  SimilarWeb's inaccuracy tends to be consistent across an industry. This is because their sample is skewed towards consumers who use browser extensions, apps, etc. meaning that, for example, tech-focused sites like TechCrunch, will have higher SimilarWeb traffic estimates than reality.
Limited data window: Unfortunately, SimilarWeb's free extension is limited to the past 6 months of data.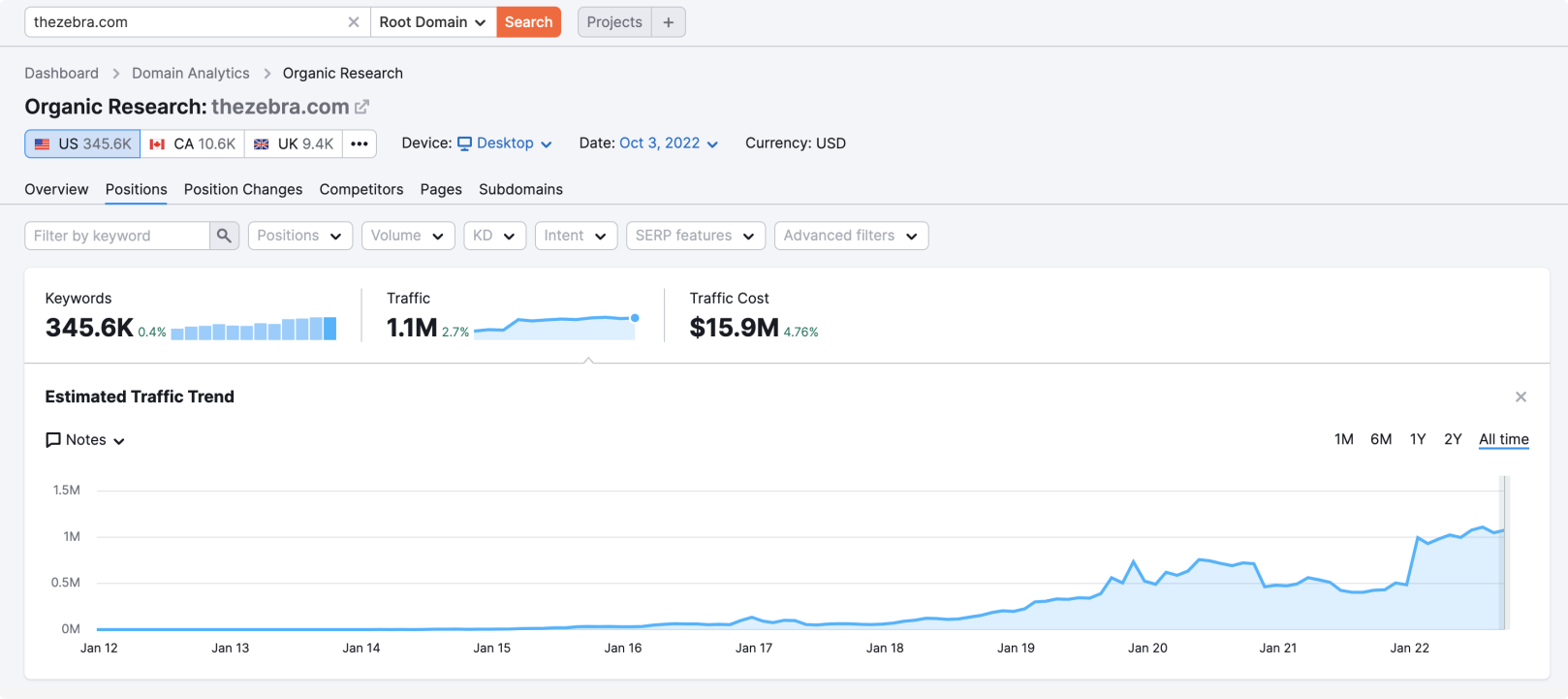 What is Semrush?
Semrush is a tool that can show you any website's organic search traffic over time and can also show some of the longtail variations for a given keyword.
Pros
Shows any website's organic search traffic, no matter how small or large.
Has 10 years of historical data, going back to 2012.
Cons
The data is not as real-time as Google Trends.
Semrush is unable to show the full list of longtails associated with a given query. To find the complete list, make a search with the Google Trends Supercharged extension then scroll down to the People Also Searched section.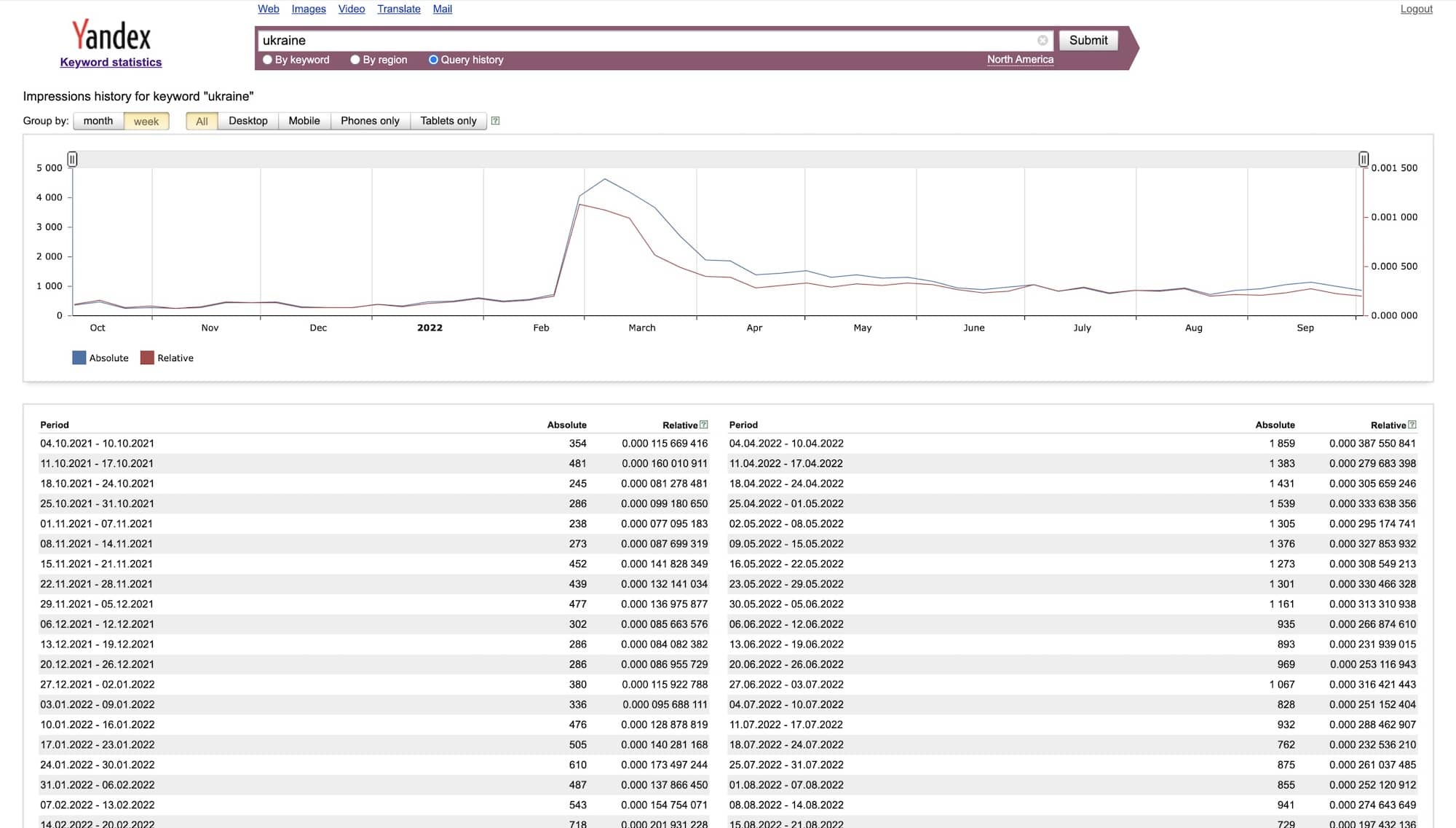 What is Yandex Wordstat?
Yandex Wordstat is nearly identical to Google Trends, but for searches on Yandex, the world's 5th largest search engine, which is most dominant in Russia.
Pros
It shows exact search volume numbers, unlike Google Trends which normally only shows normalized volumes unless you have the Google Trends Supercharged extension installed
Cons
The Yandex search engine is used mostly in Russia, so the data is not representative of global activity.
Sparse data Even though Yandex is the world's 5th largest search engine, it is used about 550x less than Google, so the data – especially for longtail keywords – is often sparse.

What is Keyword Tool?
Keyword Tool pulls in top searches, and their search volumes, from many of the top channels, including Google, YouTube, Amazon, Instagram, Twitter, Pinterest, eBay, and the App Store.
Pros
Significant coverage across most of the major channels.
Exhaustive list of longtail keywords for any given query.
Cons